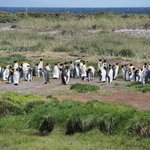 Introduction
My second part of Tierra del Fuego consisted of going from Rio Grande to Porvenir.
I decided not to take the conventional Route through San Sebastian but instead opted out for a more adventorous ripio roads through Bella Vista border crossing in the middle of nowhere. This of course involves a fair amount of fine-tuning my food supplies as Chilean border officials are known for their absolute no-go to anything which could grow and they allow only processed and well-packaged food.
As a highlight of the route I also planned to visit Parque Pingüino Rey which was along the planned route to see the colony of big penguins.
December 3
This wasn't my best day. In the morning I wanted to go to the bank to withdraw more money and changed it to Chilean pesos. Unfortunately, today is Saturday and all banks are closed. Moreover, there is basically no other possibility of changing the money even if I spend time checking with locals and getting some tips (some shops well said to be able to convert money but no. Casino was a very good tip but those bastards convert only *from* Chilean pesos. I tried to at least withdraw more Argentinian money but somehow my card did not work and what is worse, I somehow managed to lost it. (Looking back at it, I think that one guy even asked me if I didn't lost my credit card but I didn't exactly understand what he is talking about at the time). In any case, the card is blocked and I have two more (one only good for ATM withdrawals) to go. Hopefully, I will be better at keeping my cards this time. Finally, I did not manage to find a bike shop in Rio Grande (I am sure there is one, it is just that I didn't have good directions) so I decided to go to Porvenir to fix the problem. (One or two days ago, my rear derailer started skipping between two lowest gears. I tried to adjust it on the road but failed and I thought it is bent or something. As it turns out in Punta Arenas (the first place I found a bike shop), it wasn't bent derailed, I was just adjusting the wrong knob. Seriously, I am still confused about what "low" and "high" gears mean on bikes.
Anyway, I started quite late and pushed a bit harder this day even though the weather is half-drizzling.
On my way out of Rio Grande I am meeting a French cyclist couple going to the town but then continuing to Porvenir (using the more standard route). It would be interesting to see them again along the route.
As I cycled a bit back on the Ruta 3 and then joined the ripio ruta B (not 8, as the tourist office says), the wind is slowly starting.
In the evening it is really cold and I am preparing for a cold night again. At least the wind calms down and I am eating out anything which I believe might not survive Chilean immigration.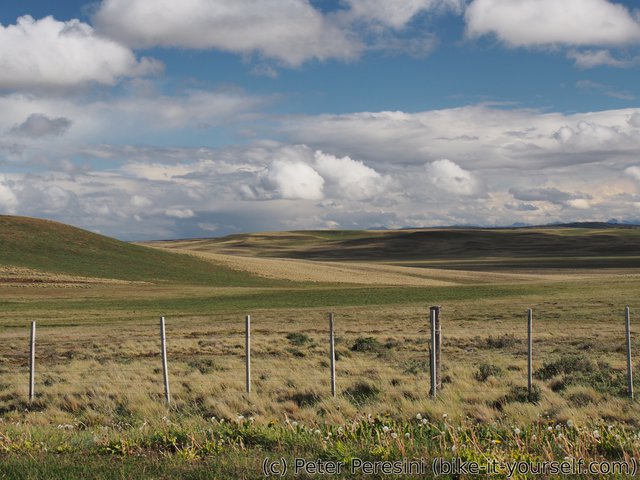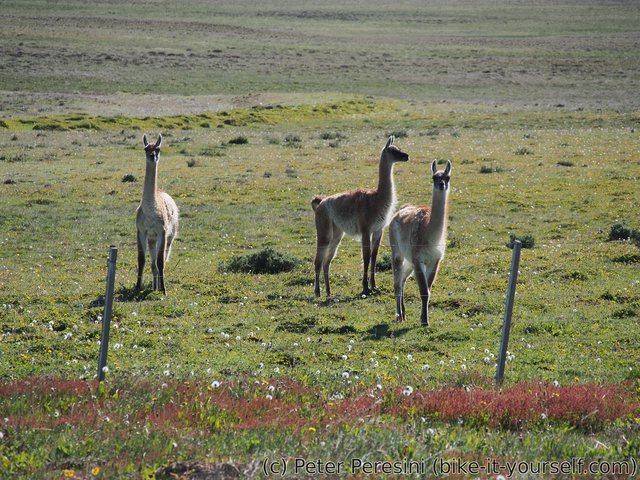 December 4
It is morning, not even 9am and the wind is back here. In case somebody told you that Patagonian winds start only about at noon, this is simply not true. You can have strong winds even in the morning (and they will get even stronger during the afternoon).
I am quickly passing an Argentinian immigration outpost at rio Radman and continuing to the Chilean side. There the process is a bit slower but fortunately they speak a bit of English and they don't relly want me to unpack everything I have on the bike, they were quite satisfied with showing them main stashes of food. As such, at half past two I clear the immigration and I am hoping for another 30-35km this day.
As it turns out, this is a good target. Chilean side has definitely more trees to it which is quite useful to calm down the headwind. In one forest, on a downhill track, I suddenly realized that I am missing the front mudguard -- it wasn't very well secured to the bike and to tell the truth I had no idea of when did I see it for the last time. I couldn't even remember if I had it that morning.
On my way, I am passing through Pampa Guanaco outpost and as its name says, there is pampa and guanacos here. And a good road. A few next kilometers can be classified only as a ripio highway -- the best ripio I have riden so far and wide for two cars.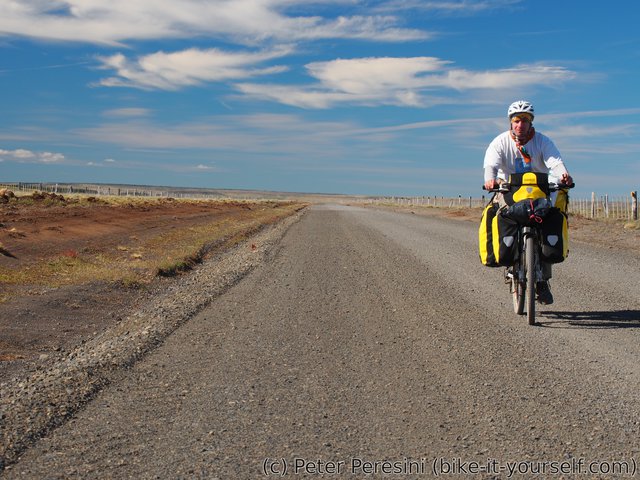 December 5
I am waking up to a clear sky and no wind. There was a bit cold in the night but otherwise this is a perfect morning. As I am slowly finding my way through towards the ocean, the wind is okay-ish but slowly growing so I fear what it will be on the coast.
The fun fact about Tierra del Fuego is that you can see this "mirror" effect over distant roads like you were standing on a racing circuit on a hot day. The reason is that the few centimeters above the ground the air is hot as the Sun is shining allright but above that the cold and fierce winds take over.
I am finally seeing the ocean but I have still 15km to it. Fortunately, it is a bit downhill so I am negotiating this part reasonably fast.
When I am near Cameron willage, I could swear I see BTS (cellphone tower) but I have no signal. It turns out that my Argentinian Movistar doesn't work there and after I switch to my Swiss SIM card, suddenly I have full bars. But, as usual, I can't send SMS. Turns out that Entel, like Argentinian Claro, does not cooperate very well with SMS to Slovak numbers.
But Movistar does and I am reporting home my position.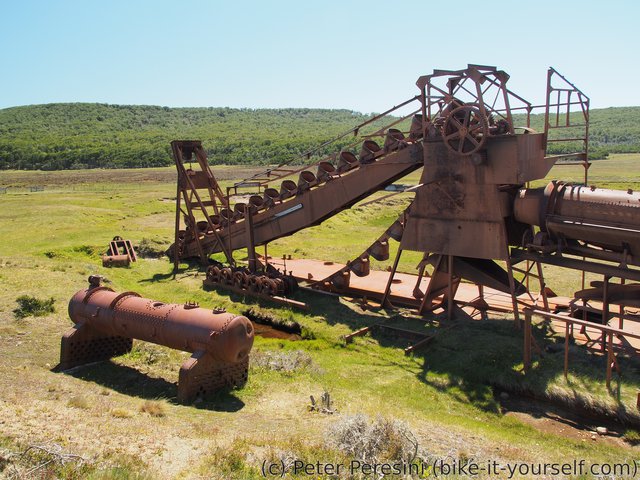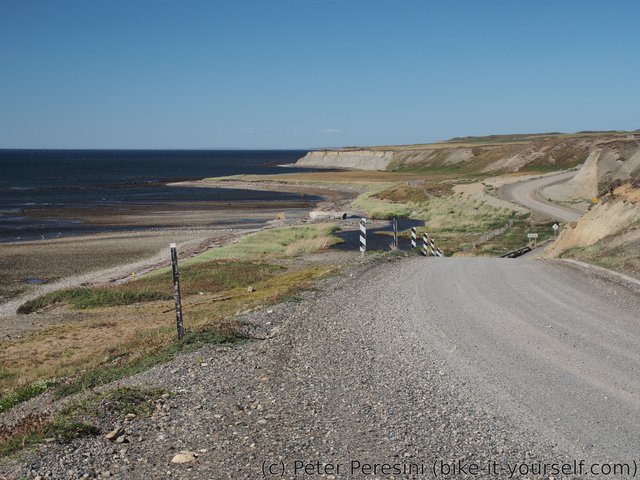 December 6
This is my highligh day because of pinguins. However, at 6am it started to rain.
Fortunately, by noon the rain is replaced by half-clear sky and I am ready to go.
As I arrive to the penguin park, I am meeting another French couple with a camper van. They visited patagonia for a few weeks and Tierra del Fuego is theirs finale.
I am also met by a friendly park ranger and, fortunately for me, I can pay with US dollars insteaf of Chilean pesos (it is ~10% more but I am more than happy to go for it).
And then I go and see them. The penguins are really majestic. As is the wind that starts right now. I was a bit disappointed that I cannot see them from closer than maybe 30 meters but in a few minutes I understand that this is a good idea -- a herd of tourists and photographers arrive and I am no longer alone in observing these amazing birds.
The penguins were in Bahia Inutil some two thousand years ago and then they disappeared.
Then, one day in 2006 they were back again. The park itself was built in 2011.
As I am making farewell to the penguins and continue down the road, I finally understand the term "Patagonian wind". What I had the days before was just a weak demo of what the winds can do.
In cross-winds, I have serious trouble staying on the road. And headwinds make a slow progress of about 6kph and the gusts that can suddenly appear are trying to throw me off the bike or at least off the course. They managed it a few times and I had to just stop, steady the bike and restart my progress. All in all, brutal winds. Which is why I am fearing the night. Finding a place in the treeless and geographic feature-less terrain I am biking would be super hard. In the end, I am finding a small bridge with a ditch to the side. It is dry and therefore a good place to reduce the winds at least a bit (being 1 meter below the surface around helps a lot). While my hiding place was effective at reducing the winds, the winds are still trying to tear my tent and at around 2am I am just woken up by them and cannot really sleep. So, if somebody tells you that winds die out in the night on Tierra del Fuego, it might not be true.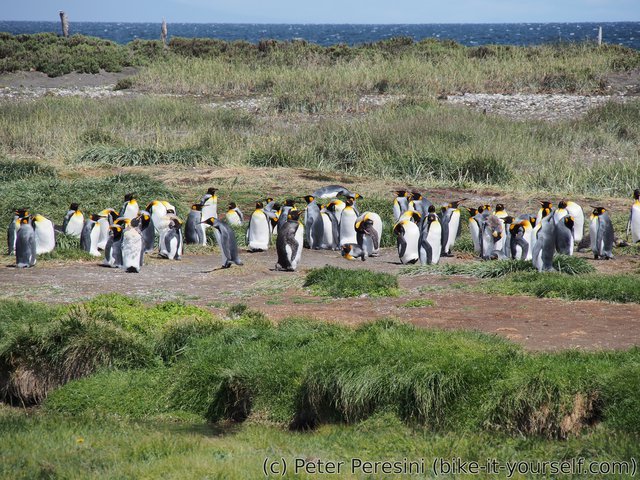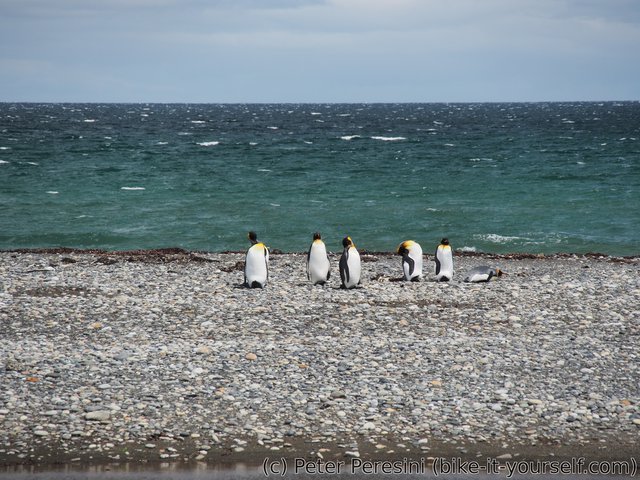 December 7
The next day I am reaching a road junction between Y-71 and Y-635 and I am taking a decision whether to take the "golden circuit" or go the coastal road.
I am not very decided because the golden circuit route is of a bit lower quality and I am fearing that the clouds I see may bring some water which in turn might convert the road into a mud. But before my decision, I am eagerly eating my lunch as it is half pas one and I am practically starving.
In the end, I am going the golden route (Y-635) and it is great, accompanied with descriptions of how Tierra del Fuego was colonized when they found out there is gold here.
There is a bit of a climb there but the wind is more manageable. It even starts raining a bit. But my climb is rewarded by great views to the whole northern part of Tierra del Fuego and Strait of Magellan. Plus, the ride down to Porvenir is easy as it is downhill.
In the end, I am arriving at Porvenir late evening one day sooner than I thought.
While I am trying to find a hostel, I find locals very hospitable. A guy from a bar walks me practically to the doors of a hostel when he finds out that I don't understand the directions. And the old lady from the hostel walks me to the bank (I need to finally get some Chilean cash) and on my way back, she even invites me home for a dinner. We didn't speak too much (with me saying "no entiendo" most of the time) but offline translator helps to break at least some language barriers. In the end, this old lady even let me wash my clothes here as they don't have a wash machine at the hostel.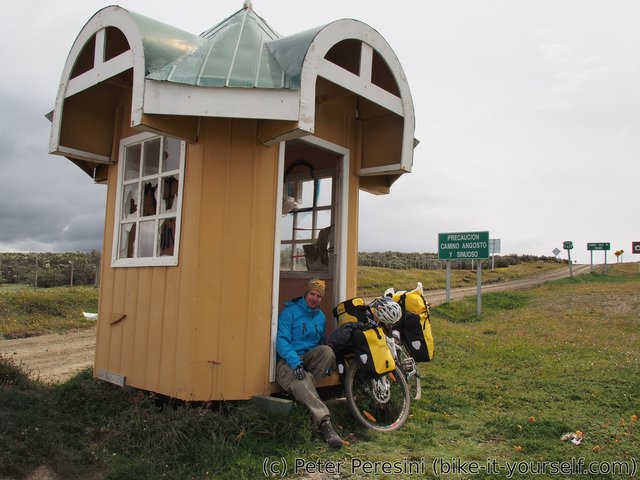 Route
Loading map...
Download simplified GPX of a route here
Stats by activity:
Activity
Distance
(km)
Ascent
(km)
Pedal rotations
(thousands)
bike
319
2.3
63
Stats by day:
Date
Distance
(km)
Ascent
(km)
Avg. temp
(moving, C)
Dec. 3, 2016
48.2
0.32
14.5
Dec. 4, 2016
77.6
0.50
16.4
Dec. 5, 2016
81.6
0.50
17.1
Dec. 6, 2016
40.1
0.09
12.8
Dec. 7, 2016
71.5
0.85
10.1
Elevation data
Loading graph...
(drag over a region to zoom in, right-click reset)
The next table is only for cycling activity.
Grade(%)
Ascent (km)
Descent(km)
< 2
185.2
< 4
24.6
27.5
< 6
10.4
8.2
< 8
3.2
2.9
< 10
2.1
1.3
≥ 10
2.8
2.9