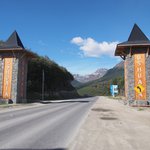 Tierra del Fuego - "The Land of Fire" - is a fierce piece of land at the complete south of South America. The colonists named this island according to the fires (or smokes) they saw but these days Tierra del Fuego is anything but fire:
There is a lot of earth on Tierra del Fuego. In fact, there are amazing mountains at the southern part of the Tierra del Fuego. And for cyclist, there is a lot of land in the form of "ripio" -- the South American way of describing unpaved road. And ripio is so abundant that you cannot avoid it here.
Next, there is a lot of water on Tierra del Fuego. The whole island is between two oceans and there are very big lakes inside. And this is not including all the water streaming from the mountains or the water falling from the sky (which is quite abundant here as well).
Finally, Tierra del Fuego is just full of air. That is, moving air, a.k.a. Patagonian winds. The winds here are really fierce. If you are a cyclist, you'd best take the road from Porvenir to Ushuaia and not the other way around (as I took) because that way you would need to constantly battle headwinds of sometimes such ferocity that they could throw you off the bike.
All in all, my start of the biking trip couldn't be a better introduction to the harsh reality of Patagonia than the fireless of Tierra del Fuego