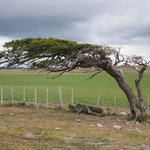 Introduction
Punta Arenas to Puerto Natales is a good stretch of the paved road with a bit more traffic than necessary. For this reason I decided to make a small detour on gravel roads and visit Rio Verde.
December 10
In the late morning I am telling goodbye to everybody I know in the Patagonia Hostel and I am starting my way to Unimarc supermarket to get food supplies. I already know that I have a lots of stuff and not very efficiently packed so I need to do some adjustments after returning with the groceries.
Afterwards I am making my way to the bicycle shop -- I remembered to get a new front mudguard. As I am a little lost in the city (around two blocks away from where I should be), Chilean carabineros stop me and ask if everything is right. They are very friendly but unfortunately the bike shop they navigate me to is somewhere completely different and I am opting out of their advice. Instead, I fire up my GPS and try to locate the store myself which I manage after a few corrections. In any case, the bike shop is a big disappointment because the only front mudguard they have is a fancy all-you-need-mudguards set for ~45 Eur which is ... damn super expensive.
In the end I am leaving Punta Arenas around noon and I quickly stop at a bus stop to eat the lunch and avoid a bit of rain. Afterwards I continue on a side road along the very busy Ruta 9 which is basically almost like a motorway here. I even meet some very short cycling route along the coast walkway.
Unfortunately, after some time my alternate route ends and I need to join Ruta 9 but thankfully the traffic is a bit less heavy here and as I am passing near the airport, the two-lanes-per-direction road turns into a standard road. Here I am meeting some cyclist going down to Ushuaia from Santiago and I am battling strong and only a normal wind as a continue.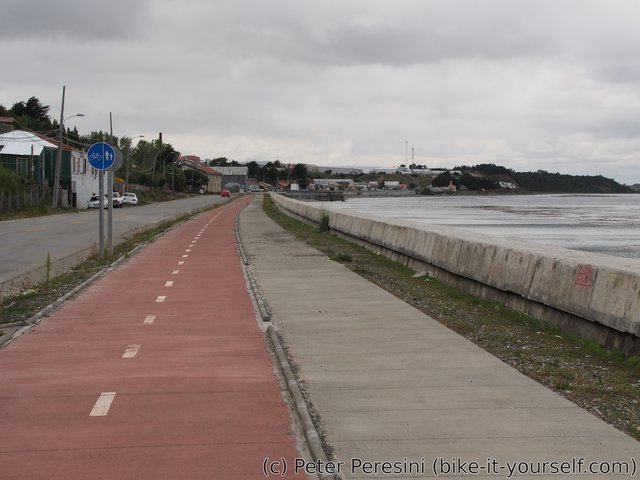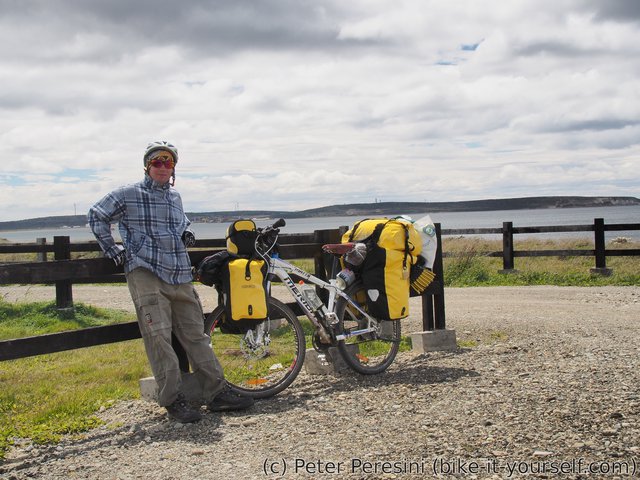 For the night I stop by in the bus station on the intersection of Ruta 9 and Y-50. This bus stop is amazing -- it is the first bus stop that has doors which can be closed and there are no broken windows so basically I am able to sleep inside a non-windy place without setting up a tent.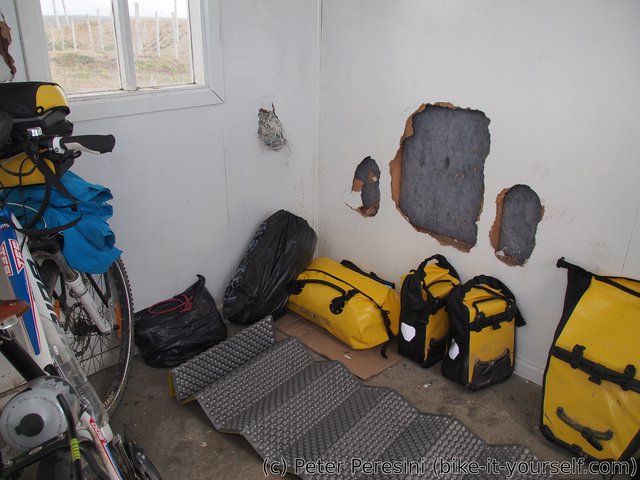 December 11
I am waking up into a bit cloudy day but so far there is no wind. In fact, according to the forecast, I should have tailwinds today which was mostly true. Somehow I am slow to start moving today (only at about 10:30am) and I still need to get water. I come by to a close laguna but when I am trying to get the water, a local guy signs me not to try it. Later I am learning that the laguna contains salty water and instead I am getting some drinkable water from him.
As I am threading my way through Y-50, I can see some ostriches. In fact, there is an ostrich farm and park here but I am unable to visit it because it is closed for some reason.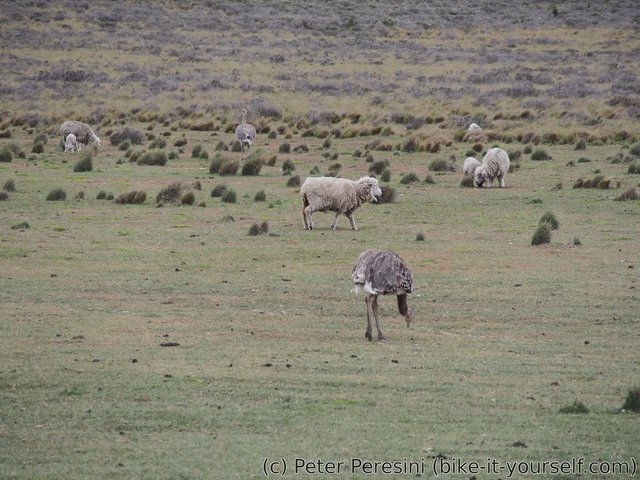 So I continue further and finally I reach the Pacific ocean. Or to be precise, a very small slice of it because there is a big island just maybe 300 meters away from the shore. Still, I can recognize the typical smells of an ocean.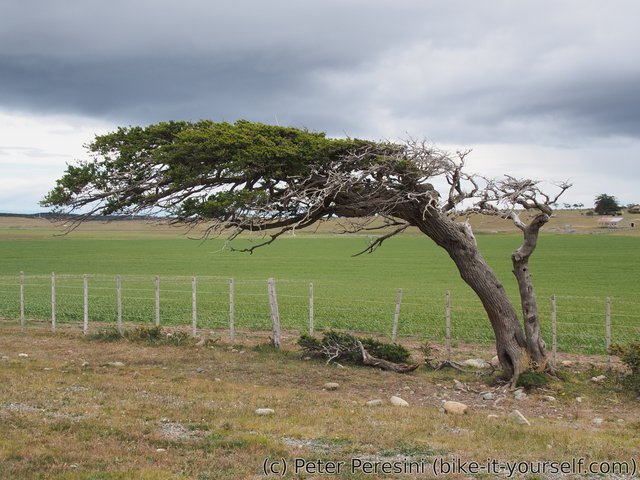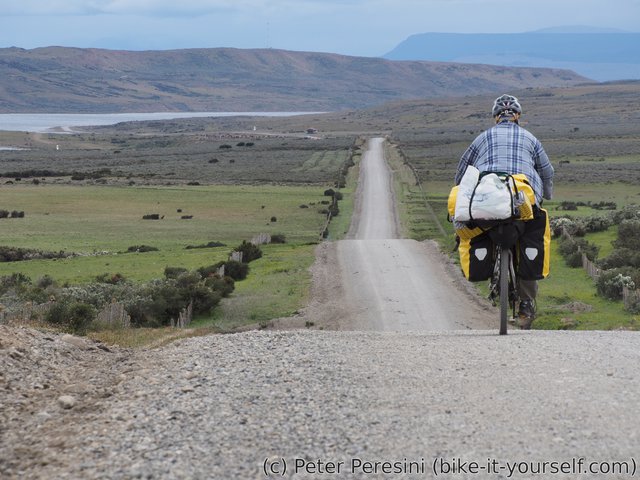 From there, I am going through Rio Verde where they have some horse spectacle for visitors and I am taking road back to Ruta 9 with tailwinds in my favor.
Unfortunately, around two kilometers before the junction, I am having my first biking accident. I am riding the ripio road too fast (read: circa 20km/h) and I lose control when the ripio suddenly transitions into a layer of small rocks. I fell with a bike and I learn that I have one not pretty wound on a leg. It is quite deep but not bleeding so I disinfect and bandage it and continue to the junction where I sleep again in a bus stop. Though, this time I am not so lucky and I need to do some tricks to fit my tent inside of it.
December 12
Despite the injury, I decide to continue on the road. Actually, it is funny because the wound on my leg does not hurt but the not so small quantity of other bruises are definitely complaining about movements. But from the morning I have a nice tailwind so it would be a sin not to use it to the fullest.
When I reach Morro Chico, a weird rock in the middle of the landscape, the direction of the road changes and suddenly I am again facing headwinds. So I decide to take a lunch break near carabineros and after the lunch I am trying to get some information from them. It is not very easy communication but in the end I learned that there are more bus stops along the way and that the forecast shows lesser winds for tomorrow.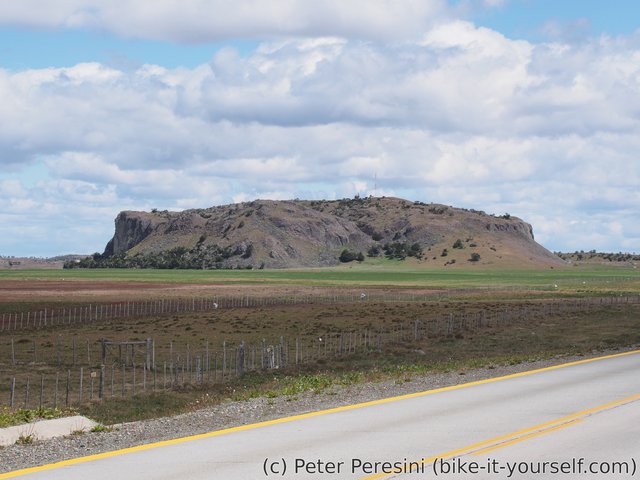 As I am battling the wind I occasionally take a short break at the bus stops. At one of them I check the wound and through the bandage it does not look very good so I decide that maybe I really should let the doctors look at it. Unfortunately, this is not very easy in the middle of nowhere. So I am battling winds again and late in the evening, at 6pm I reach Hotel Rubens -- a small outpost near a road with a restaurant and a chance to sleep.
Instead, I am trying to get the information on how to get to a Puerto Natales and if I can leave my bike here. After some negotiations, it is clear that getting to Puerto Natales (and back) might be quite tricky but there is a couple at the restaurant that is continuing to Punta Arenas.
So I am taking a ride in their car and arrive to Punta Arenas hospital. There I let the doctors to check the wound. Fortunately, it looked worse through the bandages than it really looks uncovered. They professionally disinfect it, add a bit of sterile cloth and seal it with a plastic band. The plastic looks funny, almost like a part of transparent plastic bag but apparently it adheres to the skin very well because despite my fears of losing it the thing lasts through the next few weeks and apparently it will be very hard to get it off.
Afterwards I go back to the Patagonia Hostel where I meet with friends and talk about my misfortune.
December 13
I am waking up very early to get the first bus towards Puerto Natales. Unfortunately, the bus at 7am is booked so I am getting the bus at 8:30. I get off at Hotel Rubens and start packing my bike. But before I leave, I am ordering two sandwitches there and they are really big -- in fact, I cannot eat them completely and I let them pack the second half of the second sandwidtch for the journey. This I eat for lunch at a standard eating place -- some bus stop booth.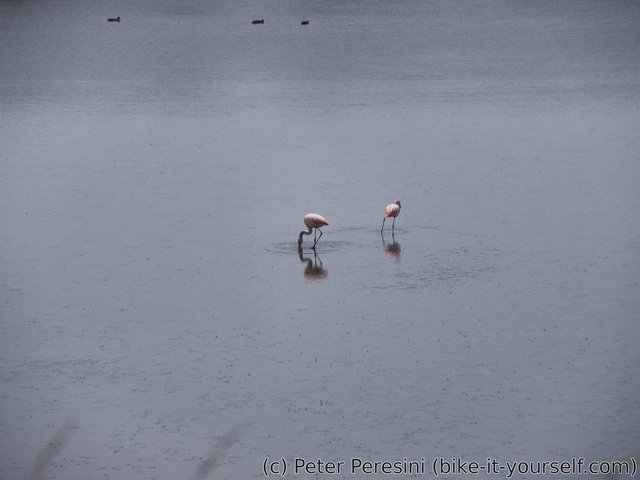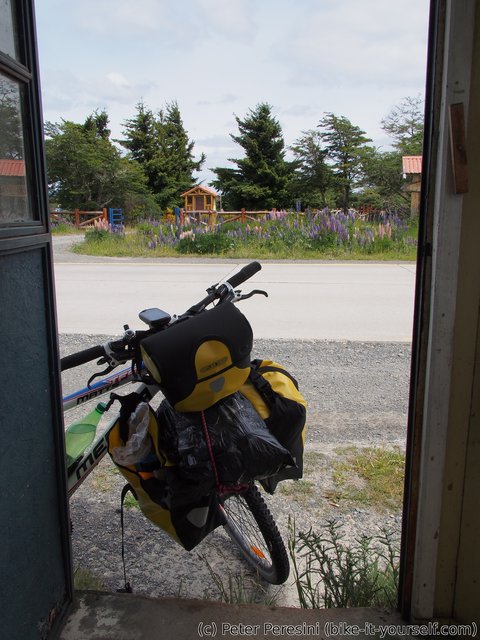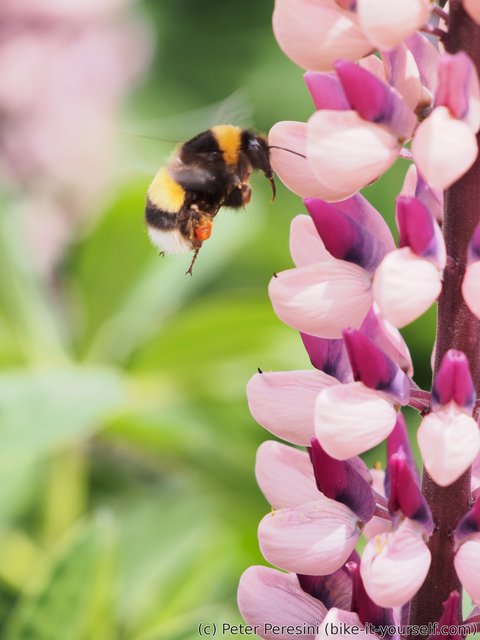 Today the wind is easy on me and I am making a good progress despite the fact that I am not really trying to cover much distance. And I am meeting another cyclist -- a Korean guy who started in Buenos Aires, is not going down to Ushuaia and then plans to go back up to Santiago. I would say that he chose the wrong way (because of the winds). But he is really nice and recommends me Casa Lili -- a hostel in Punta Arenas where you can camp in the garden.
In the evening I decide to camp early. I have only 15 km left to Puerto Natales but I don't need to rush because I still have some time till my trek in Torres del Paine starts.
So instead of arriving late evening, I am chilling out in my tent.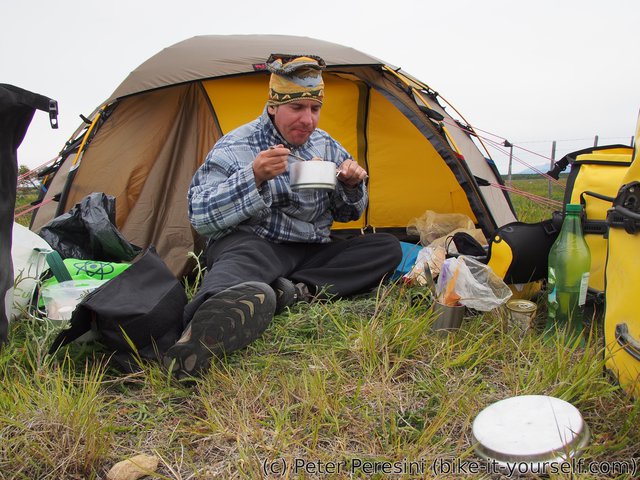 December 14
At 9:30 I am ready to battle the last 15km to Puerto Natales. The wind is quite strong today so it isn't as easy as it was yesterday. But the distance is small and I quickly arrive to Puerto Natales where I get the information about the location of Casa Lili and
I immediatelly like the place. I will stay here for two nights, then I will do the hiking and in a week I will return back to this place again.
Route
Loading map...
Download simplified GPX of a route here
Stats by activity:
Activity
Distance
(km)
Ascent
(km)
Pedal rotations
(thousands)
bike
267
1.2
45
Stats by day:
Date
Distance
(km)
Ascent
(km)
Avg. temp
(moving, C)
Dec. 10, 2016
47.2
0.17
13.8
Dec. 11, 2016
70.6
0.34
12.9
Dec. 12, 2016
85.9
0.45
11.0
Dec. 13, 2016
44.6
0.24
13.9
Dec. 14, 2016
18.2
0.05
15.9
Elevation data
Loading graph...
(drag over a region to zoom in, right-click reset)
The next table is only for cycling activity.
Grade(%)
Ascent (km)
Descent(km)
< 2
181.6
< 4
19.9
24.4
< 6
5.2
5.8
< 8
1.4
0.8
< 10
0.4
0.2
≥ 10
0.4
0.1