Securing funding for such a long expedition as mine is not an easy task. And getting some sponsorship is even harder. Fortunately, I was lucky to come across some nice people who helped me (within their bounds) to sponsor my journey. Again, I am very thankful for them
ProCycling

Pro Cycling is a small bike and ski shop in Bratislava working, as its name suggest, with high-end bikes. The owner, Norbert Kirschner is really nice and he agreed to do a pre-trip bike checkup for free. I spent one day in September in his shop and he disassembled my bike while teaching me all the important parts of the process, explaining what could go wrong and how to service it. Moreover, he gave me a discount on the replacement parts.
If you are from Bratislava and looking for a high-quality bikes and service (with adequate price of course), I would highly recommend this shop.
Azub Bike

Azub bike is a Czech company focused on dealing with all kinds of bike-touring gear. They have panniers, racks, trailers, and any other gear a bike-touring enthusiast might need. Honza Galla from Azub knows a lot about bike-touring and he readily replied to my questions about some of the gear I have now. We also agreed on a generous discount in exchange for some of my original photos and propagation on this blog. I hope I don't disappoint him.
OZ cestou necestou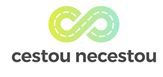 OZ Cestou Necestou is a Slovak nonprofit which tries to bring all the adventurers together at the biggest travel festival in Slovakia. Apart from organizing lots of events, they have an expedition fund which helps funding nontraditional adventures (e.g., riding old Lada car on places you wouldn't go with a Jeep through kayaking in Iceland to adventures like that of mine) -- I am grateful that they considered my biking adventure a worthy enough goal for some small funding.