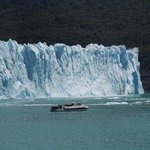 I am staying in El Calafate for two days instead of one. This is because I want to visit the famous Perito Moreno glacier and I want to have a good weather there. Mostly because I am not willing to pay for the trip if I won't get the fully enjoyable experience -- El Calafate is super-expensive. A bus ride to 80km distant glacier and back is ~30 Euro. Park entry fee is ~20 Euro and unlike Torres this is for one day as you can't stay in the park during the night. And I thought my Torres trip was expensive. 
But the biggest shock was in a bike shop. A stupid bike chain costed me ~40Euros. But I need a new one and there probably won't be a better option in El Chalten. For the next time I should remember to buy a chain in Chile! In any case, I bought the chain but I did not want them to replace it as it would cost me additional humongous money and the guy's attitude was way below what I would expect for such an expensive service -- "I live in Argentina and this is the cost here. I don't care!" was his response for my "this is insanely expensive" remark. Seriously, at least he should have been nice and explained why the damn standard Shimano chain costs more than twice the normal cost (I expect that part of it is Argentina's import taxes but this cannot fully explain the surcharge). So replaced the chain by myself (a good training for emergency situations) and I have almost done it wrong but I guess I will be a chain-replacement expert by the time I return from the trip.
At least the hostel is cheap. Which is good because I need to save some money. El Calafate to Villa O'Higgins will be a huge money-eater as well (I expect to pay ~100 Euros for the boat rides there but I will see another huge glacier). And I can get some good stuff from the grocery store -- I am finally finding an olive oil in a plastic 250ml bottle instead of a glass one. And I got a honey in a plastic package which looks like it will be quite good canister for butter or something else once I eat the honey. Oh, and the selection of fish cans is good. Seriously, one thing about expensive Argentina which I can't complain is food -- the selection is much broader than in the Chilean part of Patagonia where they apparently know only tuna fish.
Glacier Perito Moreno
The next day I am taking a bus to the touristy Perito Moreno Glacier. I am taking a bus instead of biking because by now it is clear that it wouldn't be very easy to battle the 80km of straight headwinds. Plus, camping inside the national park is forbidden which would mean probably a bit of a detour and a really hard day if it has to be combined with the trekking along the glacier. In the end, this was a good decision as I heard from other cyclists that the roundtrip between El Calafate and Perito Moreno glacier basically takes three full days.
The bus ride to the glacier is really interesting. You can really see the high drop in precipation and how this changes the country. Near El Calafate, the land looks almost like (a little bit greener) pampa. But as you go nearer to the glacier, suddenly there are these nice green grasses, the trees start to appear and finally near the glacier the country is really green.
After I get out of the bus I start hiking on a very easy trail (basically, the whole trail system in park is on steel platforms to make the trail wide enough for the visitors to go). After a while I finally see the glacier. And it is amazingly huge and high. In fact, you have a feeling that now you know what The Wall from Game of Thrones looks like. The glacier itself is 40 to 70 meters high at the frontier and 5 kilometers wide.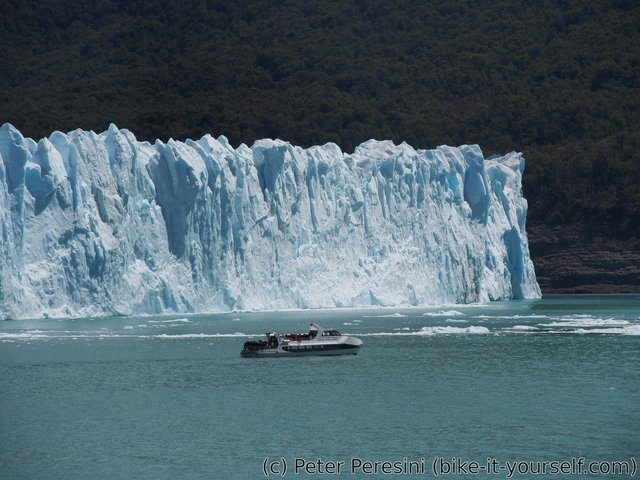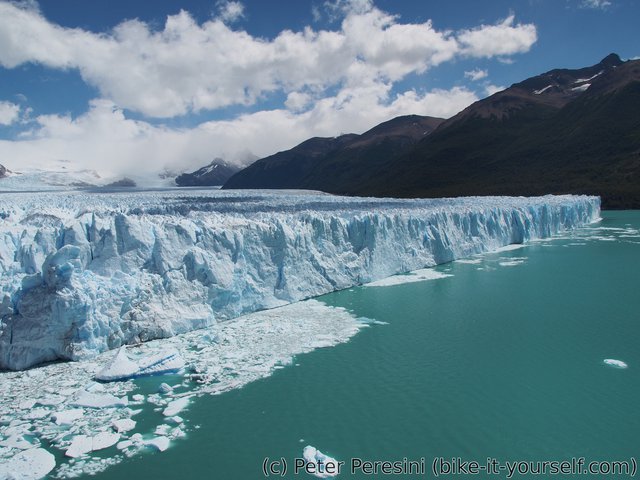 The ice itself is "flowing" quite quickly -- at 2 meters a day. As such, the glacier is really cracked and you can see amazing ice towers. You can also hear the glacier calving every few moments. In case you watch long enough, you can be even lucky to spot some bigger piece of ice crashing down into the water which makes quite a amazing (but short) spectacle.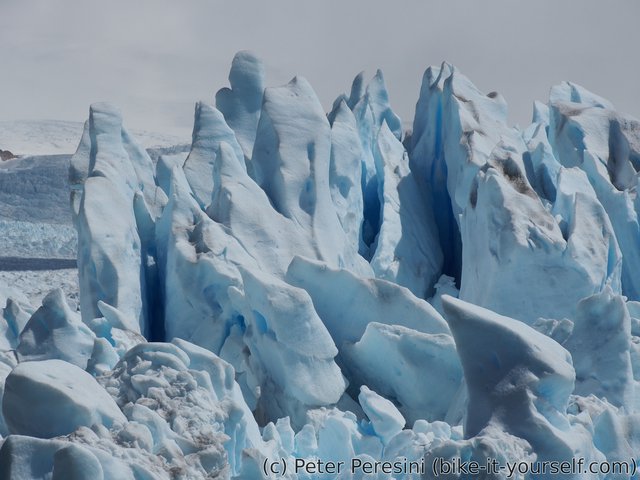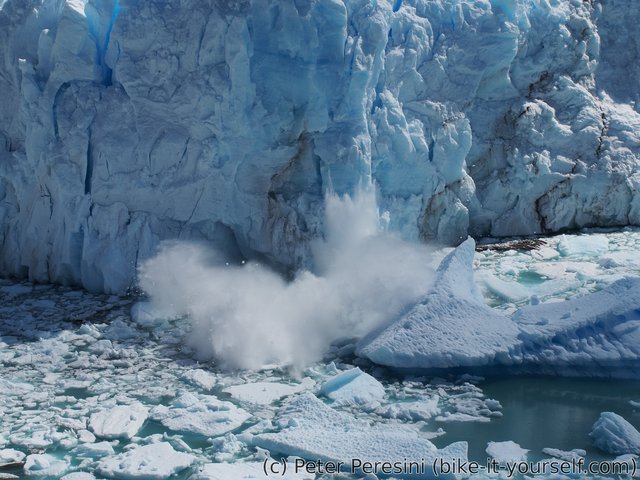 Route
Loading map...
Download simplified GPX of a route here
Stats by activity:
Activity
Distance
(km)
Ascent
(km)
Pedal rotations
(thousands)
hike
5
0.2
-
Stats by day:
Date
Distance
(km)
Ascent
(km)
Avg. temp
(moving, C)
Dec. 31, 2016
4.9
0.19
20.6
Elevation data
Loading graph...
(drag over a region to zoom in, right-click reset)
The next table is only for cycling activity.
Grade(%)
Ascent (km)
Descent(km)
< 2
0.0
< 4
0.0
0.0
< 6
0.0
0.0
< 8
0.0
0.0
< 10
0.0
0.0
≥ 10
0.0
0.0