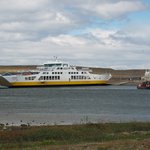 December 8
Because there is no bike shop in Porvenir (at least, the hostel manager doesn't know about any), instead of staying two days in Porvenir I am moving to Punta Arenas.
In the morning it was raining but it stopped pretty quickly and there is sun again. I am picking up my washed clothes and I am going to the port. Here I have some headwind but I still manage to get to the traject with enough spare time. So I buy a ticket and wait for the ride to start -- my first part of the journey I am not biking. And it is a wise decision. On top of converting my bike to a boat, I would need to battle the fierce winds which, I am sure of it, would yield me a negative total speed to Punta Arenas. Instead, the traject goes around 30km/h and the wind on the deck is just unbearable. After around two hours, I am leaving the traject and making final kilometers to Punta Arenas.
There I am checking into Hostal Patagonia - a very nice hostel run mainly by volunteers. Today was a crazy day for them (along other things, booking.com integration didn't work properly). I felt there like at home because most of the people were from Europe and it was very nice to chat with them
December 9
I am staying at the hostel one more day. Mainly to relax, plan ahead and write blog posts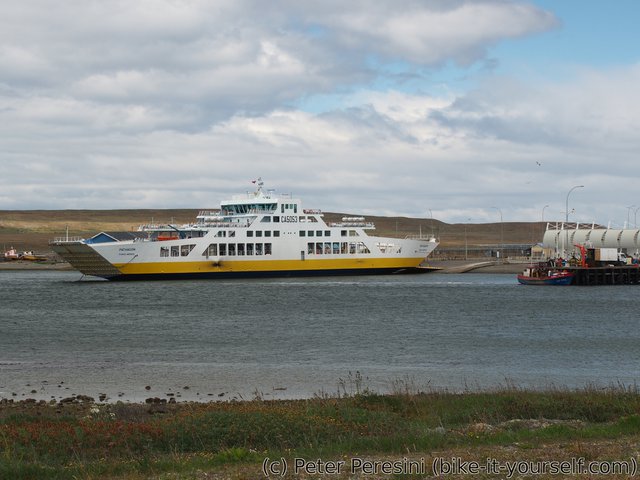 Route
Loading map...
Download simplified GPX of a route here
Stats by activity:
Activity
Distance
(km)
Ascent
(km)
Pedal rotations
(thousands)
bike
12
0.0
2
boat
40
0.0
-
Stats by day:
Date
Distance
(km)
Ascent
(km)
Avg. temp
(moving, C)
Dec. 8, 2016
51.7
0.05
16.5
Elevation data
Loading graph...
(drag over a region to zoom in, right-click reset)
The next table is only for cycling activity.
Grade(%)
Ascent (km)
Descent(km)
< 2
9.3
< 4
0.7
0.9
< 6
0.1
0.0
< 8
0.1
0.0
< 10
0.0
0.0
≥ 10
0.0
0.1