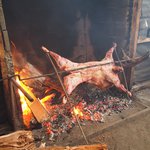 I am staying in total 6 nights in Puerto Natales. The first two are before my Torres del Paine trek and the remaining 4 afterwards -- while I originally wanted to go earlier, the weather and the place itself make me stay.
As I probably mentioned in the previous posts, I am staying in hostel Casa Lili. This is a very nice place to be. The price is relatively cheap, owner Juan is very nice and helpful and you can even pitch your tent in the garden for half the price of a night which is amazing. Moreover, as my biking friend Arne would say, this place has "buenos ondes" -- a good vibes.
In fact, it is here where I am meeting with Arne -- a nice guy from Amsterdam who is travelling on a bike for the past half a year. He was even joined by his father for two weeks and they did some amazing hiking in El Chalten and then biked to Puerto Natales. Arne is also a very good source of information on the route.
Apart from Arne, there is Jan, a Belgian half-professional tour guide who also biked Carretera Austral. And Nelson -- an actual ranger in Torres del Paine national park. Together, these three are amazing company for talking and generally just enjoying the Christmas time.
Speaking of Christmas -- it wouldn't be Patagonian Christmas without a traditional meal -- lamb asado. So, late on the Christmas eve we are meeting in the shed behind the hostel and watch the flame prepare the delicatesse.